Al Gore
(March 31, 1948) is a
Democratic
Candidate in
The Political Machine 2012
.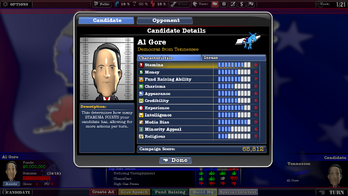 Biography
Edit
Born in Washington D.C. he served in the National Guard. Afterwards he served in the Senate and House in Tennessee. He attempted to gain the Democratic Nomination in 1988 but lost. In 1992 he as the Vice-Presidential Candidate for historical candidate Bill Clinton. He won and was re-elected Vice-President in 1996. In 2000 he ran for president against George W. Bush and despite having the popular vote he lost the election. Afterwards he worked on environmental issues. Tennessee is listed as his home state
Characteristics
Edit
Stamina= 8/10
Money= 6/10
Fund Raising Ability- 7/10
Charisma= 5/10
Appearance= 6/10
Credibility= 6/10
Experience= 8/10
Intelligence= 6/10
Media Bias= 9/10
Minority Appeal= 4/10
Religious= 3/10
Ad blocker interference detected!
Wikia is a free-to-use site that makes money from advertising. We have a modified experience for viewers using ad blockers

Wikia is not accessible if you've made further modifications. Remove the custom ad blocker rule(s) and the page will load as expected.