Barry King Live
is a
Television Show
that appears in
The Political Machine 2012
. The show is hosted by
Bary King
.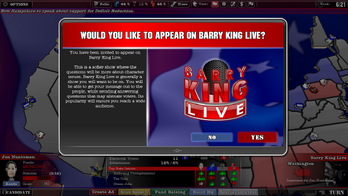 What is known about the show comes from Bary King in the begging of the show. Barry claims that the show has been running for 100 years.
In Game Description
Edit
This is a softer show where the questions will be more character issues. Barry King Live is generally a show you want to be on. You will be able to get your message out to the people, While avoiding questions that may alienate voters. It's popularity will ensure you will reach a wide audience.
In Real Life
Edit
The show is a parody of Larry King Live
Ad blocker interference detected!
Wikia is a free-to-use site that makes money from advertising. We have a modified experience for viewers using ad blockers

Wikia is not accessible if you've made further modifications. Remove the custom ad blocker rule(s) and the page will load as expected.