Joe Biden
(November 20th, 1942-) is the incumbent Vice President and the running mate of the winner of the 2012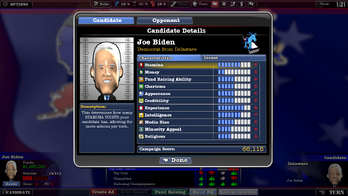 presidential elections
Barack Obama
.
Biography
Edit
Born in Pennsylvania he became a senator from Delaware (which is listed as his home state). In 2008 he won the vice presidency with president Barack Obama.
Characteristics
Edit
Stamina= 7/10
Money= 2/10
Fund Raising Ability= 4/10
Charisma= 5/10
Appearance= 5/10
Credibility= 5/10
Experience= 8/10
Inteligence= 7/10
Media Bias= 5/10
Minority Appeal= 4/10
Religious= 4/10
Ad blocker interference detected!
Wikia is a free-to-use site that makes money from advertising. We have a modified experience for viewers using ad blockers

Wikia is not accessible if you've made further modifications. Remove the custom ad blocker rule(s) and the page will load as expected.