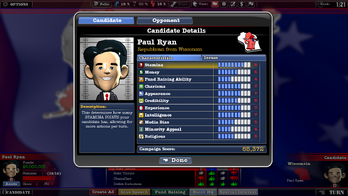 Paul Ryan (Jan. 28th, 1970-) is a Republican candidate in the Political Machine 2012. He is the real Republican Running mate.
Biography
Edit
Paul Ryan was born on January 28th, 1970 in Wisconsin. In 1998 at the age of 28 he won Wisconsin's 1st congressional District and assumed office in '99. In 2011 he became the chairmen of the house budget committee. He became Mitt Romney's  Running mate in 2012 but lost the election to             Barack Obama.
Characteristics
Edit
Stamina= 8/10
Money= 6/10
Fund Raiser= 4/10
Charisma= 7/10
Appearance= 7/10
Credibility= 6/10
Experience= 7/10
Intelligence= 7/10
Media Bias= 5/10
Minority Appeal= 4/10
Religious= 5/10
Ad blocker interference detected!
Wikia is a free-to-use site that makes money from advertising. We have a modified experience for viewers using ad blockers

Wikia is not accessible if you've made further modifications. Remove the custom ad blocker rule(s) and the page will load as expected.